Santarosa Estates - LOCATION
Santarosa Estates is located in Sta. Rosa City, Laguna, Calabarzon. It is easily accessible via the Sta. Rosa Exit or ABI-Greenfield Exit on the South Luzon Expressway. It is located across Ayala Paseo de Sta. Rosa, within walking distance from Ayala Nuvali, and about 35 km from Makati City.
Location Highlights:
Quality of life is very much helped by the fact that all you need is within a few kilometer radius. Santarosa Estates is conveniently located near schools (including Brent School, St. Scholastica's College, De La Salle University, Ateneo Graduate School, and Don Bosco), hospitals (Perpetual Help Medical Center & Metro South Medical Center), industrial parks, shops and commercial establishments, churches, café and restaurants, etc. It is less than an hour away from the premier business district of Makati. For those working at Laguna Technopark, you will find that it is just minutes away. Job opportunities are also widely available here, offered by the many multinational manufacturing, IT and electronic companies.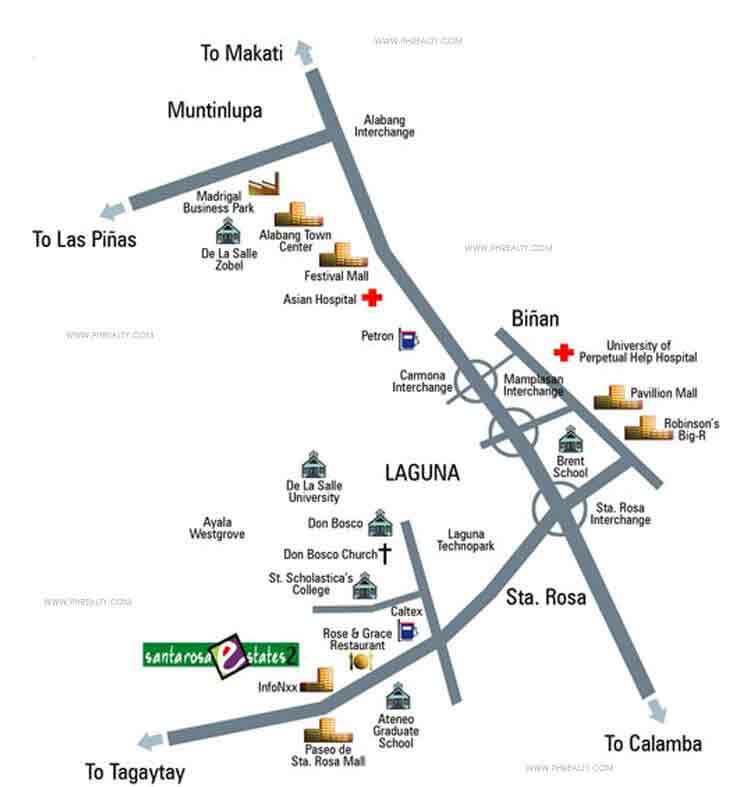 Santarosa Estates is located in Sta. Rosa, Laguna. This is the perfect residential retreat that is located close to major establishments, landmarks and attractions. Therefore, Avida Land specifically chose this location to ensure that your family can enjoy a relaxing retreat that you can call home while making it accessible enough to travel to and from.
The city of Sta. Rosa in the province of Laguna is a suburban residential area. It is located 38 kilometers south of Metro Manila and is accessible via the South Luzon Expressway. Sta. Rosa also serves as a gateway to Tagaytay, another popular tourist destination in Luzon for its cool climate.
The economy of Sta. Rosa is steadily growing over the past few years. It is now considered a vibrant commercial hub with various manufacturing plants headquartered here, such as Toyota and Coca-Cola. In addition to these manufacturing plants, the most famous theme park in the country, Enchanted Kingdom, is also located in Laguna. On top of these, there are several housing development projects that are either recently turned over or are currently under development. Sta. Rosa is the second largest local government unit in Laguna, next to Calamba.
Santarosa Estates is located along the Santa Rosa – Tagaytay National Road. Therefore, it is easy to access Tagaytay from Santarosa Estates. If you must travel to and from Metro Manila, you can easily access it via Sta. Rosa Exit on the South Luzon Expressway.
For families moving into Santarosa Estates, you will be able to find a good school to send your child to. There are several major universities in Sta. Rosa, Laguna such as University of the East, University of Santo Tomas, Polytechnic University of the Philippines, and De La Salle University. For elementary and high school, you options include Laguna BelAir Science School and Brent School.
For commercial establishments, you do not have to go to Metro Manila in order to shop and enjoy recreational amenities. As mentioned above, the country's largest and most popular theme park – Enchanted Kingdom – is located in Santa Rosa, Laguna. For shopping centers and malls, there are a few nearby options from Santarosa Estates, which are SM City Santa Rosa, Paseo de Sta. Rosa Mall, and Vista Mall Sta. Rosa.
There are also several industrial parks and economic zones in Sta. Rosa, Laguna. Hence, there are plenty of employment opportunities within Laguna itself. This could save you a lot of travel time since you can work within Laguna itself and be able to build your home in Santarosa Estates. Some of the industrial parks in the city of Sta. Rosa include the Laguna Technopark, Greenfield Automotive Park and Toyota Special Economic Zone. On top of that, there are several banks in the city and car dealerships. Everything you could find in Metro Manila is available here!
Along with the lifestyle destinations and infrastructure, there are also several top-notch medical and health care facilities in Sta. Rosa, Laguna. Some of the best medical facilities such as St. James Hospital, The Medical City South Luzon and Santa Rosa Hospital and Medical Center are located within the city of Sta. Rosa, Laguna.